No Lockdown for Learning
Virtual consult via Zoom with the EAMC Ophthalmology
Amidst the onset of the COVID-19 pandemic, the world suddenly came to a halt. Simultaneous lockdowns everywhere, businesses closing down, people required to stay indoors; everything was clouded with uncertainty. One aspect greatly affected was the medical education system.
Prior to the pandemic, hospitals were filled with young doctors-in-training who were rotating in different hospital departments learning skills and experiencing the reality that they will face once they become licensed physicians. However, due to the unexpected circumstances, the education system had to convert to non-conventional platforms of learning. Somehow, some fields were able to adapt to virtual education but the field of healthcare where clinical skills and aptitude are acquired through patient encounters and hospital exposure took a great toll.
Despite the limitations brought by virtual internship and clerkship, students and institutions overhauled their learning methods to address the academic needs of the students and at the same time ensuring their safety. These methods were particularly difficult to employ in medical fields such as Ophthalmology where learning and appreciation heavily rely on the visual and tactile experience that virtual exposure cannot provide. Nonetheless, online activities that simulate actual patient encounters and surgical experience were utilized.
One of the strategies used is the Virtual Clinic where the medical students interview and extract history of actual outpatient department patients who consented for the activity. Through the Zoom platform, the medical students talk with actual patient volunteers regarding their reason for consultation. Besides history-taking, ophthalmologic examinations were also performed by on-site resident preceptors prompted by the medical students. Through a camera attachment, the live slitlamp examination performed and annotated by the resident preceptors is projected to the screens. Processing the flow of consult and theoretical aspects of the case including the management is done with the consultant preceptor. Through this activity, even via online, the interns are able to experience interviewing, doing physical examinations, and managing real life patients with real concerns. Somehow, they are able to have tangible clinical experience even across their computer screens.
Another activity designed was the Virtual Surgical Experience, where the interns view surgery recordings or live surgery sessions with a consultant and/or resident preceptor. During this activity, the rationale behind each surgical step is explained and the students are given the chance to ask questions to better appreciate the procedures despite not being able to do first-hand assist. This also gives them the general idea about specific procedures that they will potentially encounter in their future practice.
Virtual learning experience can never match hands-on clinical work where you will learn not only skills but also resilience and grit that will train a sharper clinical eye. However, extraordinary times call for extraordinary measures. The greatest strength of humanity is the ability to adapt to unexpected circumstances and rise above them. This setup will not stay this way forever. Going the extra mile, even if the future goes bleaker and become filled with more uncertainty, will hone resourceful young doctors who prove that there is no lockdown for learning.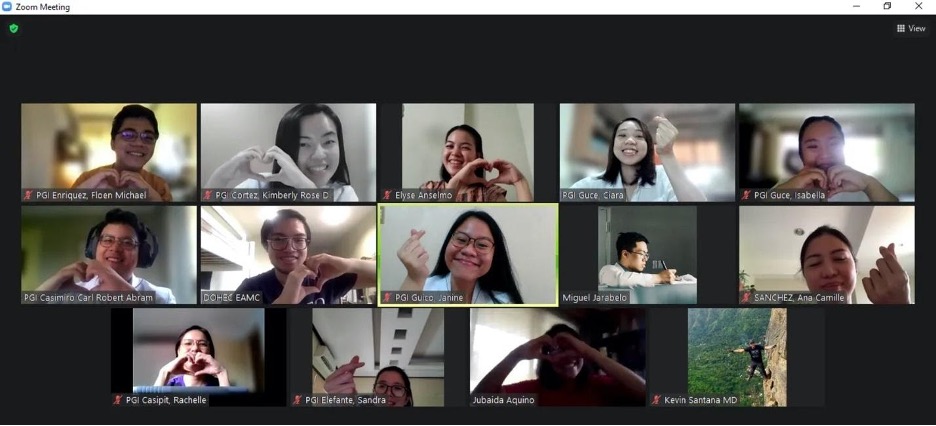 Miguel Eduardo Jarabelo, MD, MBA is an incoming senior resident of the DOH Eye Center. His interests include chorale singing, oil painting, playing video games and going on food adventures. In the future he wants to become a food blogger and he also plans to teach ophthalmology in his alma mater.