From Clinic to Canvas: WVSO collaborates to form art group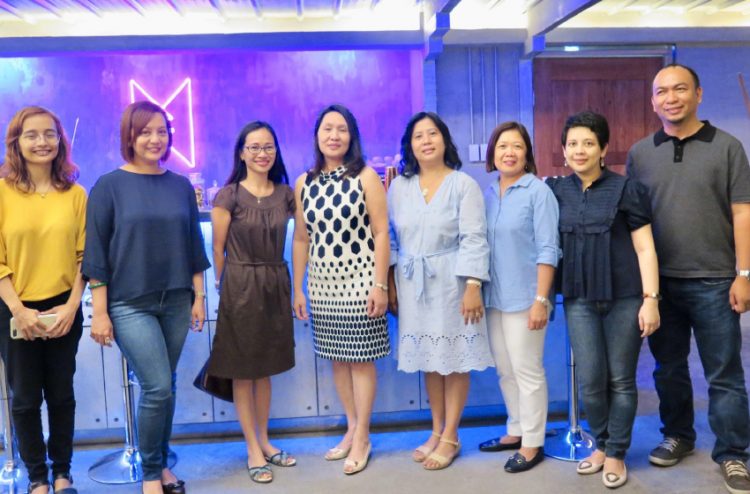 Opening night of Bulúng exhibition with some of the exhibitors: (L-R) Krys Balmaceda, Amee Ponje, Eva Catedral, Minda Cabrera, Dureza Abad, Janet Beltran, Anna- Marie Velasco and Noel Tongson.
Painting is a hobby engaged in by many doctors. The artworks that are produced are hung inside their respective homes or clinics and rarely exhibited in art galleries and museums. But for the doctors of Western Visayas Society of Ophthalmology (WVSO), they broke this barrier by collaborating with other doctor artists to mount an art exhibition. This hobby has turned into an art group named, The After Clinic Group.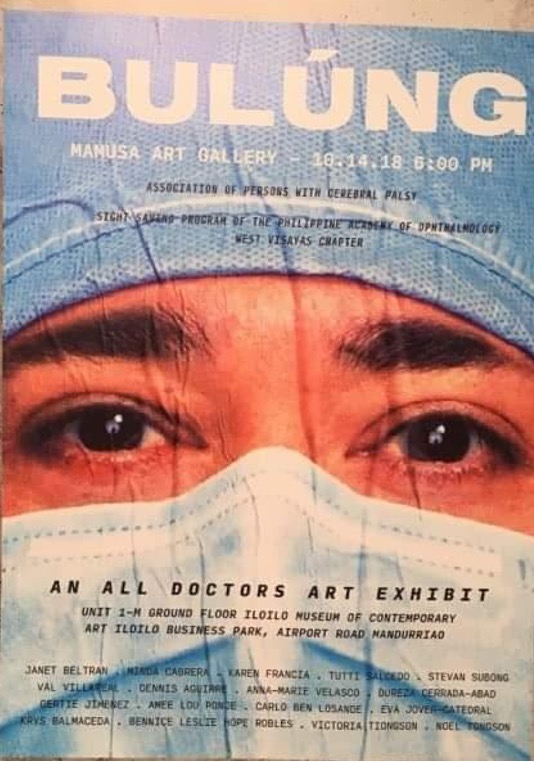 "Bulúng" in Hiligaynon, means medicine. Painting is like a medicine. It frees the mind and soul. It relieves stress and anxiety. It recharges the body. The first art exhibition participated in by the WVSO was held in Mamusa Gallery on October 14-30,2018
Who would have thought that a mask which used to be an icon for doctors, is now a sign of the COVID pandemic? This was conceptualized to raise funds for the indigent eye patients of the Western Visayas Medical Center.
Those who participated in the said event were Dr. Krys Balmaceda, Dr. Eva Catedral, Dr. Karen Francia, Dr. Carlo Ben Losande, Dr. Bennice Robles, Dr. Cynthia Salcedo and Dr. Noel Tongson.
Thru "Bulung," we were able to get acquainted with doctors from other specialties who share the same passion for painting. We could not have filled the whole gallery with artworks from only the seven of us. It was indeed an awesome night with doctors and friends.
Our next art exhibition was, "Healing and Beyond: Prescriptions in Canvas," last February 22- March 28, 2019 at Museo Iloilo. This time, we formalized our group and named ourselves, After Clinic Group. This is precisely because it is after clinic hours, at 7 o' clock in the evening, that we would often meet to brainstorm for this exhibit, and to practice sketching.
"The doctor-artists featured in this exhibit have embraced art to relax and recharge. They have no formal training in art. They work as clinicians and educators. But at times, they hold the brush to explore and break free from boundaries.
Their artworks depict the natural beauty of nature. The flowers are expressed with bright colors, various tones, and strokes. People are drawn not only with attention to detail, but with the essence of being human."
This exhibit featured bigger and more interesting artworks that tackled the complex subject of healing that goes beyond prescription of drugs.
In the last quarter of the year, ACG had another exhibit entitled Positive Ions at Cinematheque Centre Iloilo. This art exhibition used colors to evoke energy and feelings of well-being: love, joy, and contentment. Fathers, mothers and the children were celebrated. The beautiful sceneries that should be preserved and life events were depicted. The Great Healer also took center stage.
Then the pandemic began. COVID changed our lives and separated us physically. Nonetheless, art remained strong in Iloilo. Last July 2020, we joined the city-wide art exhibition with the surgical face masks as the subject. This was a gathering of 120 Iloilo-linked artists to raise funds for the frontliners.
Also in the same year, while working at home, ACG was able to release our first magazine, Artzine, which featured the individual doctor artists and their works.
This 2021, upcoming exhibits and activities are underway. You may visit our Facebook page: afterclinic group to check out the other members of the group and our activities.
As to how these doctors were able to organize art exhibitions and produce obra maestras is both a marvel and a gift from Above. We continue to inspire and be inspired. We continue to promote healing, share the love and positivity thru art -from our clinic to the canvas.
Eva Catedral is an ophthalmologist based in Iloilo City.  She is an artist by heart, having also organized an art exhibition while on residency training in East Avenue Hospital. She plays a pivotal role in the founding of ACG and its art exhibitions.  Her current academic interests are biochemistry, heavy metals and herbal medicines, retinoblastoma, oculoplastics and eye trauma.