Philippine Network of Young Ophthalmologists (PiNoY): A Silver Lining Amidst the Pandemic
The sound of a cell phone relentlessly ringing in the silence of a pandemic lockdown can be one of the most jarring in the world. Thankfully, all cell phone calls on that quiet June 2020 afternoon was about the long-overdue birth of the Philippine Network of Young Ophthalmologists (PiNoY). "Pinoy ", a widely used local term to describe anything Filipino, was purposely used as an acronym to this newborn movement.
Pre-pandemic, the country's geography (with 7,641 islands) is a constant challenge in keeping people closer together. The distance and hassle of transportation were regular excuses to cancel events for everyone to unite. Thanks to technology, the pandemic has allowed us to explore a unique opportunity to keep everyone connected despite borders, distance and lockdowns.
A 12-member core group composed of Filipino Ophthalmologists younger than 40 years old, with different backgrounds, subspecialties and areas of practice in the country was organized. Through Zoom, the core group formulated a battle plan to help Filipino YOs flourish with choices and opportunities that may have been unmaximized by their predecessors.
With Facebook as a widely used social media platform among Filipinos, the Philippine Network of Young Ophthalmologists Facebook group was created. Now with close to 600 members, this group has been a common ground for Filipino YOs across the country. It has been a unique venue of cross-pollination of ideas among YOs: from sharing of publications, newsletters, events, words of wisdom, successes and failures- not a single Filipino YO is left behind. Last year, one of the best PiNoY-initiated projects was the "Sana Bukas" music video (translation: Hopefully Tomorrow). This presentation was about hoping for better days during the pandemic and it included Filipino Ophthalmologists of all ages across the country. This project was well received and was apparently a good break from the monotony and stresses of the coronavirus threat. This year, another well-received PiNoY-initiated project is the creation of a Fellowship Training Database for its young members – a project aimed to encourage its members to take subspecialty training either locally or internationally. This month, PiNoY released "The PiNoY Bulletin", October- December 2021 issue. Check it out through this link:
Of the many forces that play in the growth of PiNoY, it is its support from the Philippine Academy of Ophthalmology and its neighbors in the Asia Pacific Academy of Ophthalmology that count the most. Despite its birthing pains, the examples set by other YO Societies is an inspiration for PiNoY.
Indeed, the present climate of collaboration of ideas and building of friendships among its members and everyone around serve as a catalyst for its progress – not just to PiNoY as a society, but to every Filipino Young Ophthalmologist of today. The best is yet to come.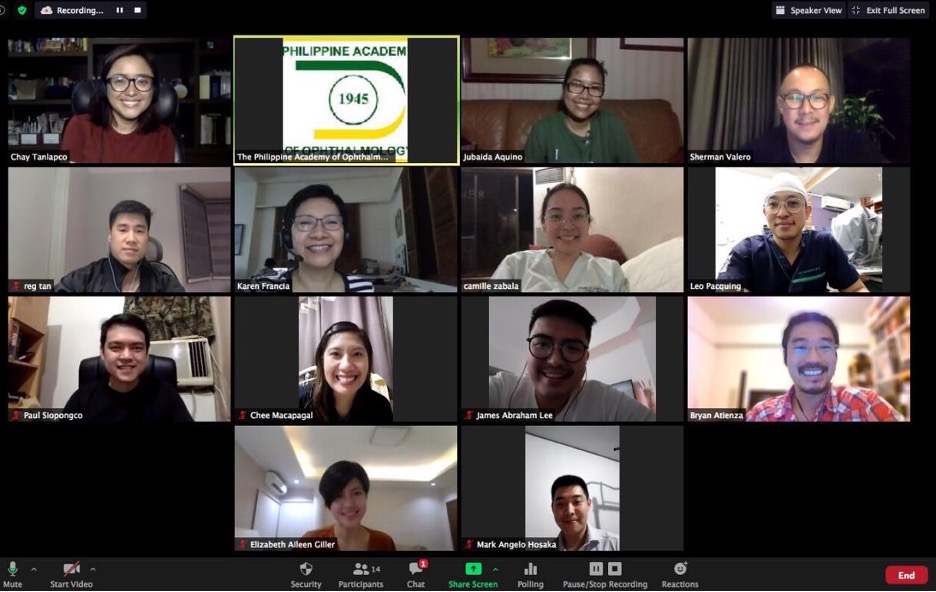 Charisse Sanchez-Tanlapco MD is the founder of the Philippine Network of Young Ophthalmologists (PiNoY) and is the Philippines' Young Ophthalmologist representative to APAO. She is a member of the APAO Social Media Committee and the editorial team of the APAO YO Newsletter. She is mostly a comprehensive ophthalmologist in her private practice, but shuttles her way around the northern Philippines for orbit and oculoplastic surgery cases to the underserved.